Cornwall hospital mobile surgery to ease waiting list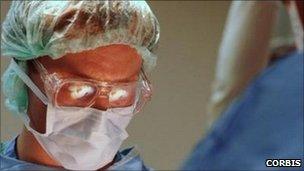 A mobile surgery unit is being installed at the Royal Cornwall Hospital as managers work to reduce lengthy surgical waiting lists.
A high number of emergency cases, a winter norovirus outbreak and refurbishment work have been blamed.
There are 1,200 people waiting longer than the target time of 18 weeks for their operations.
The Vanguard mobile theatre will ease workloads until renovation work on two operating theatres finishes in June.
Royal Cornwall Hospitals Trust chief executive, Peter Colclough said: "We are clear that every patient should be treated within 18 weeks of referral and we are disappointed that our waiting times for surgery are not comparable with the best in the country.
"The Trust has faced an extremely difficult few years to get us back on track but we are confident that in the next few months we can deliver the access to care our patients rightly expect.
"We have agreed a plan to ensure that by the end of July 90% of our patients will be seen within 18 weeks."
The Trust is also extending evening and weekend surgery work.
The delays come as managers are having to shave £19m off this year's budget, putting 400 posts under threat.
Related Internet Links
The BBC is not responsible for the content of external sites.