Cornwall backpacker Che Montgomery dies in Australia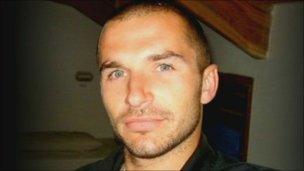 A 29-year-old Cornish backpacker has been killed in a crash in Australia.
Che Montgomery, from Perranporth, was the only person in the car when it rolled on the Great Northern Highway near Broome, Western Australia.
Reports said he suffered serious head injuries and died at Broome Regional Hospital on Wednesday.
Tributes have been paid by friends and also on social network websites to Mr Montgomery, who went to Perranporth School and has two older brothers.
One brother, Adam, said Mr Montgomery was one day into an 1,800-mile (2,900km) road journey which was expected to take about three days.
Adam Montgomery thanked ranchers who came across the accident on the road between Perth and Darwin.
He said: "They noticed skid marks on the road which were not there when they went past earlier.
"It was night time and they found headlights in the bushes.
"They got searchlights out for 20 minutes until they found him because apparently he was quite some distance from the car."
In Perranporth, former school friends of Mr Montgomery said they never lost touch with him and that they were overwhelmed by the loss.
Carl Smeaden described him as a "brilliant person".
He said: "He was so kind-hearted, generous, and he looked after everyone.
"If any one of his friends was in trouble, he'd be right there backing them up."
"He was always the one that stood out in a crowd with his devilish charm and humour."
Mr Montgomery's family hopes to hold a memorial service once the Australian coroner has filed a report.
Related Internet Links
The BBC is not responsible for the content of external sites.