Cornwall Council admits credit cards data blunder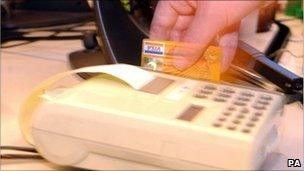 Cornwall Council has admitted giving out the wrong figures for its credit card bills which led to claims of lavish spending on travel and hotels.
It told the Daily Telegraph it had spent nearly £9m on credit cards since 2008, including on overseas travel.
But the council said it had not checked the figures before releasing them, which were "at least" £1.3m less.
Among the figures was £114,142 for hotels in India, which was actually in rupees, and should have been £1,645.
The figures, given to the newspaper in a Freedom of Information request, were published on Saturday.
The bills included £1.14m for hotels and £81,000 on hospitality and expenses.
Opposition Liberal Democrats called it a scandal.
But after the article was published, the Conservative-Independent controlled council admitted some of the figures which it gave to the newspaper were wrong.
It is now checking all the figures.
It said the £114,142 figure given for hotel costs in India for an educational exchange involving teachers from Cornish schools was mistakenly not converted from rupees.
There were similar inaccuracies in the amounts highlighted for restaurant payments, with one figure of £15,640 quoted for a restaurant in Japan during another educational exchange.
This amount was in yen and would be about £118 sterling.
Other figures, including more than £650,000 on a hotel in Bangkok, were also being scrutinised.
The council said: "We are still checking these figures but so far estimate that at least £1.3m of the costs highlighted for overseas travel and hotels are wrong."
Council leader Alec Robertson said: "While we are committed to being open and transparent, this incident shows the importance of analysing raw data carefully and responsibly.
"Unfortunately the deadline set by the newspaper meant that we were unable to check all the figures before the article was published."
The council said it told the journalist the figures were inaccurate.
"They did not give us the time to provide them with the accurate information," he said.
Related Internet Links
The BBC is not responsible for the content of external sites.