Cornwall homelessness campaigners stage sleep-out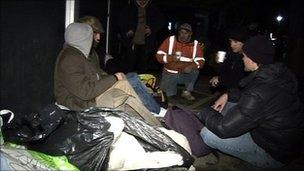 Campaigners have staged a sleep-out in Cornwall in an attempt to put pressure on Cornwall Council to rethink cuts to services for the homeless.
About 50 people took part in the event outside Truro Cathedral on Sunday night.
The Churches Homeless Network Group, which organised the event, said it wanted the council to spend more money helping people get off the streets.
The council is making £10m of cuts to front-line services this year.
Its the second time in four months protesters have stayed out all night to campaign for the rights of homeless people.
In February, about 70 people slept on the steps of County Hall.
The council began a four-week survey earlier this month to try to ascertain how many homeless people there were in the county.
It said the survey would provide a more accurate assessment of the homelessness situation in the county.
Related Internet Links
The BBC is not responsible for the content of external sites.