Choughs in Cornwall produce 15 chicks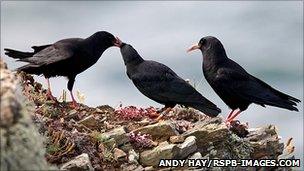 A rare bird in Cornwall that features in the county's coat of arms has had a successful breeding season in the west of the county, the RSPB says.
Fifteen chough chicks have hatched at four secret sites.
Nests are monitored and protected by the RSPB, Natural England and the National Trust, as well as by volunteers.
It is hoped the chicks will survive to maturity and mark the species' biggest success since its return in 2001.
The chough, a rare member of the crow family, has distinctive red legs and a long red bill.
There were more than 100 pairs in the county but the bird vanished after its food source disappeared because of a decline in cliff-top grazing areas and the use of pesticides.
It eventually disappeared from the county in 1973, before returning to Cornwall 28 years later.
Related Internet Links
The BBC is not responsible for the content of external sites.