Cornwall Council use of payment cards to be scrutinised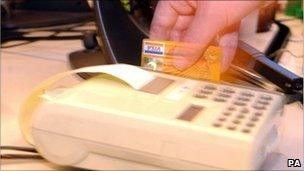 Cornwall Council is to examine its use of payment cards after figures in a national newspaper led to claims of lavish spending on travel and hotels.
The council told the Daily Telegraph it had spent nearly £9m on credit cards since 2008.
But it later admitted the figure was wrong and said payment cards, rather than credit cards, were used.
The council's scrutiny committee will discuss the cards at an emergency meeting on Thursday.
The payment cards can be used to pay for things direct from a council account, rather than on credit.
The figures, given to the newspaper following a Freedom of Information request, were published on Saturday.
The bills included £1.14m for hotels and £81,000 on hospitality and expenses.
The council, which is controlled by the Conservatives and Independents, is now checking all the figures and said the correct total spend would be "at least £1.3m" less.
Council leader Alec Robertson said: "I have some questions and I'm keen to find some answers.
"I will be embarrassed if we find out that anything has been wrongly spent."
He said a £1,000 claim for silk ties was in fact for 100 Cornwall Council ties which were sold to councillors for £10 each.
He said: "We encourage staff to use payment cards because it is a far cheaper way of making payments.
"We're being asked to defend something that doesn't need defending."
Mr Robertson said he was "angry" with the newspaper for printing "misleading" information.
The newspaper said it had given the council three days to "justify" the expenditure it had reported.
It emerged over the weekend that other figures given to the Telegraph had not been converted from foreign currencies - including a bill for a hotel in India which had appeared to be for £114,142 but should have been just £1,645.
Mr Robertson said the corporate account payment cards were introduced by the former Labour government as a "more efficient" way for councils to make payments, rather than using direct debit or cheques.
Some 509 payment cards are in use by the council. Of those, 154 were allocated to schools, the authority said.
Mr Robertson said their use was "strictly controlled" with limits on what could be spent and what could be bought.
Related Internet Links
The BBC is not responsible for the content of external sites.