The Eden Project awaits huge plant's flowering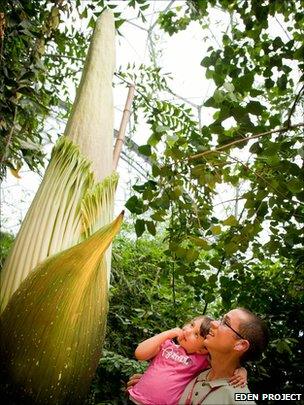 Gardeners at Cornwall's Eden Project are waiting to see if one of the world's biggest plants bursts into flower this week.
The massive species known as a Titan Arum has been growing at a rate of five inches a day at the Eden Project, near St Austell.
If it tops three metres it could become the biggest flower ever grown indoors.
It will flower for only two to three days before dying and gives off a revolting smell to attract insects.
The plant has taken nine years to get to its current height of 2.5 metres (8 feet 2 inches).
The biggest-ever Titan Arum in captivity flowered in New Hampshire, USA, and reached a height of 3.1 metres (10 feet 17 inches).
The Eden Project's plant expert Tim Grigg said: "This beautiful plant is already bigger than any other Titan Arum flower I've ever grown.
"I'm getting very excited to see what the final height will be. Here's hoping for a new world record."
The plant originates from Sumatra and is a distant relative of the British lily.
It is distinguished by its yellowy, fleshy spike known as a spadix.
The giant plant will be the fifth example that has flowered at Eden and, for the first time, it will be joined by another specimen which is due to flower shortly after.
Related Internet Links
The BBC is not responsible for the content of external sites.