Cornwall College sets £6,000 tuition fees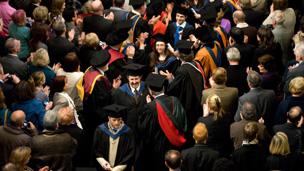 Cornwall College has announced it will charge up to £6,000 a year in tuition fees for degree courses from 2012.
The college, which spans seven campuses, has about 2,200 students on degree courses.
College Principal Dave Linnell said financial support would be offered.
He added: "Setting our tuition fees at £6,000 a year will enable those wanting a high quality university-level education to receive it at an affordable rate."
Cornwall College said the fee decision meant its students would be paying some of the most competitive fees in the South West after confirmation many of the region's universities would be charging the maximum fee of £9,000.
Exeter University and Plymouth University are among those that have set their fees at £9,000 a year from September.
All universities planning to charge more than £6,000 will need to have their fees approved by the Office for Fair Access.
Mr Linnell said: "Students choose to study higher education at our colleges because of the quality of the courses and the excellent level of student support.
"Contact with staff is higher than in many institutions and leads to an excellent relationship between staff and students."
He added that the college wanted higher education to "continue to be accessible to everyone" and provide real opportunities in employment.
The college, which includes Duchy College and Falmouth Marine School, has about 45,000 students.
Cornwall College Students' Union said it had been heavily involved in a student consultation that has informed the decision to set the fee at £6,000.
Union president Toni Pearce said: "Although these higher fees are not what anyone wants to see, the situation institutions have found themselves in, due to the government's higher education funding policy, means that in order to continue to deliver higher education in Cornwall it is necessary to charge £6,000 per year.
"However, the union is confident that this level offers prospective students choice in the region, as well as the continued offer of bursaries and student support."
Related Internet Links
The BBC is not responsible for the content of external sites.