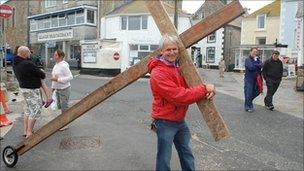 A man from Cornwall has spent the last 24 years travelling around the world, carrying an enormous wooden cross.
Lyndsay Hamon says he wants people to gain the confidence to share their faith on the streets or in the pubs.
Mr Hamon, from Praze an Beeble, near Camborne, said: "I carry the cross both locally and internationally, having carried it in some 16 countries since 1987."
Mr Hamon has visited Romania, Bangladesh, Nepal , Sri Lanka, Russia and Slovakia.
He recently left his full time job as a carer to concentrate on cross walking and developing a project close to his heart.
"Kickstart is aimed at helping Christians to gain the confidence to share their faith on the streets or in the pubs. I want to help get the church in the pub and the pub in the church.
"I work with a church for a week at a time and with a small amount of training I take individuals out to the streets and the pubs to help them get started talking to complete strangers about their own experience of God.
"The people who have gone with me tell me that the experience took them out of their comfort zone. It was scary but exciting and people were surprised at the public's positive reaction, many folk receiving prayer even in the pub.
"The aim is that churches of all denominations will form street teams that will go out in this way on a regular basis to share their faith and minister to people who might not otherwise go to church."
Mr Hamon hopes his work will sperad from Cornwall throughout the UK.
He said: "I am loving getting to know local churches, I fall in love with each new church that I work with, there are some brilliant people down here."