Cornwall hospitals in 'harmful' surgery probe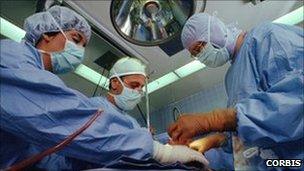 An inquiry has begun over incidents which were harmful or potentially harmful to patients during surgery at the Royal Cornwall Hospitals Trust.
The "never events", so called because they should never happen, occurred in operating theatres in Cornwall.
The Care Quality Commission (CQC) visited after being alerted to five such events over 25 months.
The Royal Cornwall Hospitals Trust (RCHT) said improvements were being made.
The events are serious incidents which either do result or may result in death or severe harm to a patient, and should not happen if safety procedures are followed.
Examples of events include surgery carried out on the wrong part of a patient's body, or an instrument being left inside a patient during a procedure.
The CQC made an inspection last week during an unannounced visit.
It has not been clarified details of the events, or where they happened. The trust operates three hospitals, with facilities in Truro, Hayle and Penzance.
The RCHT said the CQC found what was described as an "inconsistent approach" to safety checklists hospitals used to try to prevent such incidents.
The trust added that it had taken swift action to ensure all theatres abided by checklists.
It said training and discussions with staff were under way to avoid any more events.
CQC inspectors are to report back within a next few weeks.
At worst, the commission could call a halt to surgery or prosecute the trust.
Related Internet Links
The BBC is not responsible for the content of external sites.