BBC Introducing: The Bloogs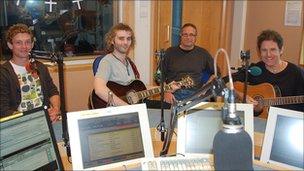 The Bloogs members have only been together since November 2010, but the band has already gained significant attention.
Their debut EP 'Sideways', was released just a few short months later in May 2011.
It has been getting regular airplay on BBC Radio Cornwall and its video is building up the hits on websites like Youtube.
The band is currently in the studio recording an album and rehearsing for upcoming gigs.
The Bloogs popped into BBC Radio Cornwall to perform an acoustic session for BBC Introducing's David White.
Click on the audio link to hear a brand new track called Freezing Rain.
And where did the group's unusual name came from?
Chris from the band explained: "Dr Zeuss created the Cat in the Hat. One of his lesser known works is called the Oh The Things you can Think.
"On each page there's an ingenious invention with different creatures and strange situations. On one page you can dream up a bloog.
"They have pink candy floss in their heads. That's where our name came from."
The band describes its sound as early Blur and Stone Roses, being influenced by the Brit Pop era of the 1990s.
The band is taking to the road for the first time this summer, starting with a debut gig at Bunters in Truro on Friday 3 June.
Related Internet Links
The BBC is not responsible for the content of external sites.