Scilly prepares for Queen's visit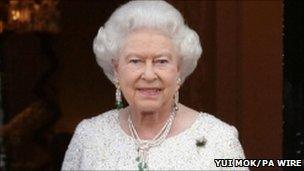 The Queen will visit the Isles of Scilly on Friday, for the first time in more than 40 years.
She and the Duke of Edinburgh are likely to visit the new Five Islands school on St Mary's.
They are also expected to see the islands' new Sea Fisheries vessel, the Matt Lethbridge.
The Queen last visited the Isles of Scilly in 1967, when she was joined by a young Prince Charles and Princess Anne.
Tresco island resident Eddie Birch said: "She came over on the Royal Yacht Britannia. She moored between St Mary's and Tresco.
"I was assistant harbour master then. The day was lovely. There was a lot of people watching.
"She went round the Tresco gardens for about an hour and a half. I think it's brilliant she is coming back."
Islander Ann Oyler met the Queen on Tresco during her visit 44 years ago.
She said: "It was mind-boggling really. I think it was a yellow outfit the Queen was wearing.
"They were going to the school, but the weather turned wet, so that was called off. They visited St Mary's in the morning and then they went to Tresco.
"The visit to Tresco began after lunch when the royal barge brought the royal family from Britannia. A short carriage ride to the Abbey, and a tour of the sub-tropical gardens followed."
Related Internet Links
The BBC is not responsible for the content of external sites.