St Ives tourist centre to reopen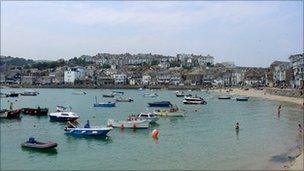 A tourist information centre in west Cornwall which closed in May because it was too expensive to run is to reopen.
The St Ives centre is to have a four-month trial financed by the town before any decision is made about its long-term future, the town council says.
However, it added that it reckoned it would cost £40,000 a year to run and it would need local businesses to sign up at a cost of £100 each to finance it.
The centre, in the Guildhall, will reopen later this month.
The office, which was previously operated by Visit Cornwall, receives between 80,000 and 100,000 visitors a year.
Town clerk Louise Dowe said there were advantages to businesses joining the newly renamed Visitor and Information Centre.
She said: "They get to be included on the listings available from the centre and on the website.
"Accommodation providers can also be included on a booking system, which will hopefully bring a lot of last-minute customers to them.
"It would be ideal if everybody could join. We're working on the idea that the more funding we've got, the better service we can provide."
Deputy mayor Colin Nicholls said he believed local businesses realised they were "in the real world, so we have to pay for such services".
He said: "We must be prepared to put our hands in our pockets to help visitors."
The fates of two other Visit Cornwall-operated centres in Penzance and Falmouth - whose closures in May were announced at the same as the St Ives office - are currently not known.
Related Internet Links
The BBC is not responsible for the content of external sites.