Libya blast photographer back with family in Cornwall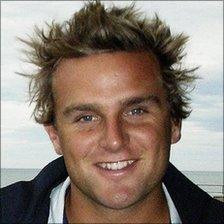 A photographer who was injured in a grenade attack in Libya has been released from hospital in Cornwall.
Guy Martin, 28, from Falmouth, had been undergoing treatment at the Royal Cornwall Hospital in Truro.
He suffered stomach and leg injuries during the attack in Misrata, which killed two journalists in April.
His girlfriend - journalist Polly Fields, from St Buryan - said he was back in his family's home in Falmouth and was doing well.
Mr Martin, who was working for the Panos Pictures agency, was injured in April as Misrata came under siege by forces loyal to Col Muammar Gaddafi.
He underwent surgery in Misrata before being taken to the island of Malta and then brought back to Cornwall for treatment in Truro.
Fellow journalists Liverpool-born Tim Hetherington, 40, and American Chris Hondros, 41, died in the blast.
New York-based photographer Michael Christopher Brown also suffered shrapnel wounds.
The Libyan uprising against Gaddafi's 42-year rule began in mid-February.
Related Internet Links
The BBC is not responsible for the content of external sites.