Plan for 999 response hub in Hayle is mooted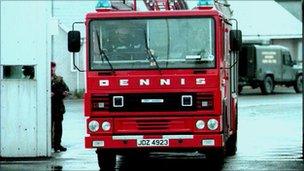 Plans to re-organise the fire service in west Cornwall could lead to the creation of an emergency-response "hub" at Hayle.
Fire, police and ambulance services would all be based on the same site.
It is part of a proposal to close fire stations at Camborne and Redruth, replacing them with new stations at Tolvaddon, near Camborne and Hayle.
Cornwall's chief fire officer, Des Tidbury, believes the idea has the potential for significant savings.
Mr Tidbury said: "If we could build new premises and utilise more resources into that, yes it would cut down costs. Yes we are talking to the ambulance service, yes we are talking to the police force; however, it is early days.
"Both services have expressed an interest in the Hayle site and the police have expressed an early interest in a possible site in Tolvaddon."
The chairman of Cornwall's Fire Brigades Union, Mike Tremellin, said: "I think people are aware that there's been a need for a fire station at Hayle for a number of years now. Hayle has been gradually growing and the risk has been increasing.
"The question arises as to whether the improvement of cover can be maintained and improved in the Redruth and Camborne area."
Mr Tidbury said there was the evidence that Cornwall would have a better fire service with stations at Tolvaddon and Hayle, than the one it has now.
"There is a system called Risk Mapping and it's a very complicated piece of software. What it does is look at all the fires we've had over a number of years, and by relocating the fire engines on the map, you can see how many more incidents we would have got to quicker. That's how it works."
The proposals will have to pass through a number of Cornwall council committees during the summer. A final decision is expected no earlier than September.
Related Internet Links
The BBC is not responsible for the content of external sites.