Huge smelly plant in bloom at Eden project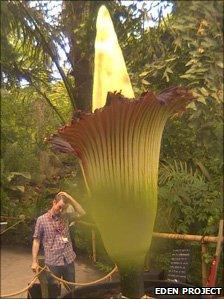 A huge smelly plant at Cornwall's Eden Project has thrilled visitors by going into bloom.
Gardeners at the site near St Austell had been waiting for the Titan Arum to flower which they said was a rare event.
The plant, among the biggest plant species in the world, will usually only bloom for about 48 hours before dying.
The Titum Arum, which has grown to 2.91 metres (9 ft 6 ins) gives off a foul smell to attract insects.
A spokeswoman for the Eden Project said the plant was known as the "corpse flower" because it stinks of rotting flesh.
Plant enthusiasts have been watching the Titan Arum's latest progress on the internet via the project's webcam.
The plant has been growing at a rate of five inches a day and has taken nine years to get to its current height.
The biggest-ever Titan Arum in captivity flowered in New Hampshire, USA, and reached a height of 3.1 metres (10 ft 2 ins).
The Eden Project, which has grown four other Titan Arums, said the latest one had been their tallest and staff had been hoping to top this record.
The plant originates from Sumatra and is a distant relative of the British lily.
It is distinguished by its yellowy, fleshy spike known as a spadix.
Related Internet Links
The BBC is not responsible for the content of external sites.