AZAB 2011: Falmouth prepares to launch yacht race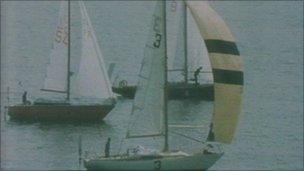 Racing yachts have arrived in Falmouth ahead of Saturday's race to the Azores and back.
The AZAB 2011 will see 60 boats race nearly 2,500 miles during the 45-day competition.
Some yachts will be single-handedly managed, others will be raced by teams. Sailors from 10 countries are taking part in the challenge.
The first race to the Azores took place in 1975 with 52 starters. It takes place every four years.
The AZAB race director, Colin Drummond, said: "There's a really good mixture of people wanting to do it as well they can, and then you have got some really hot racing boats. It's a wonderful mixture."
The majority of yachts usually take between seven and 10 days to reach the Azores, allowing a week to relax and restock for the return journey.
This year there are three father-and-son teams taking part.
John Head is taking part with his son Alex. It is not the first time they have taken part.
Mr Head said: "In 2003 we had to retire. We went into very rough weather and got water into our fuel tank. We had no fuel or electricity so we had to turn back.
"In 2007 we did rather better and came 12th overall and third in our class."
This year is the 10th AZAB race.
It begins at 1300 BST on Saturday from Falmouth.
Related Internet Links
The BBC is not responsible for the content of external sites.