Falmouth women 'terrified' by gull attacks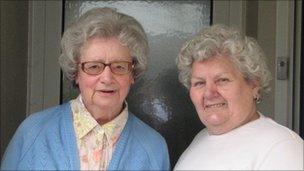 Two elderly women in Cornwall claim they are terrified to leave their home after being targeted by gulls.
Nancy Bond and Gloria Prinn said the attacks near their flat in Falmouth meant they could not use their garden or hang their washing outside.
Ms Prinn added her glasses were knocked off in one incident. The birds are believed to be protecting their young.
Gulls are protected, but could be culled with a government licence, the RSPB said.
Ms Bond said the birds flying at them looked like a "prehistoric thing coming out of the sky".
She said: "When we come out to go shopping the two big ones up there just come zooming over the top of you."
Speaking of the incident in which her spectacles were removed, Ms Prinn said: "I was hanging out my clothes. it just landed on me and glasses really went off.
"It was like a tonne weight on me. It was terrible."
The women said the only advice they have received to deal with the situation was to use an umbrella when entering and leaving their home.
Ms Bond said: "We don't want to harm them, but we want something done to take them away."
The RSPB said the killing of urban gulls should only be a last resort, where a significant risk to public health or safety had been identified.
Related Internet Links
The BBC is not responsible for the content of external sites.