Ambassadors of Sorrow in session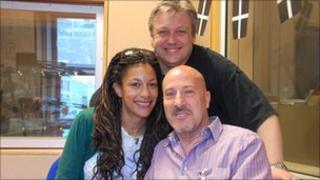 The Ambassadors of Sorrow say their songs weave tales of love, loss, longing and hazy memories.
The Ambassadors have recently scored two independent films and supported A Hawk and a Hacksaw.
Some fans have said they sound like easy listening star Julie London singing the songs of country great Johnny Cash.
The band themselves say their influences include Billy Fury, Marc Almond, Johnny Kidd & the Pirates, and the Eurovision Song Contest.
Lead singer Angeline Morrison had been writing songs for as long as she could remember when she met Jess Carter at the Bunker Studios at Goonhilly Downs.
Songs were sung and demos were recorded. Then with the twist Jess joined the band as its drummer.
The band's last album called Easterly was released in 2009. Two years on the group is preparing to release its latest cd.
The group visited BBC Radio Cornwall's David White Show to introduce a song from the album called 'The Well of Wisdom'.
Angeline Morrison from the band said: "Easterly sounds a bit more like a collection of songs because it was recorded over a period of time, whereas 'There is no Ending', which is the new album, was really influenced by classic albums that I really love, which have a very distinctive sound, and were recorded really fast.
"The Sound of Fury, the seminal Billy Fury album, which is one of my favourite of all time, was recorded in just 30 hours.
"So I kind of wanted to set us that kind of challenge. When I wrote the songs they were very much in the vein of the sound inside my head, which is somewhere between 1958 and 1962. But also it features my other influences like classic English folk music."