Call for increase in cancer fund spending in South West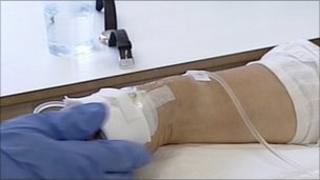 NHS South West spent only a quarter of the money available to patients from a cancer drugs fund in the first six months, it has emerged.
Between October 2010 and March 2011, NHS South West was allocated £4.8m, but only used £1.2m, researchers for the Rarer Cancers Foundation (RCF) said.
They said the rate was very poor compared to other regions and called for an increase.
NHS bosses said spending would increase as requests for funding increased.
'North-south divide'
The Interim Cancer Drugs Fund was announced in October 2010.
The aim was to allow NHS doctors to apply on patients' behalfs for expensive cancer treatments, even if they have not been approved by the National Institute for Health and Clinical Excellence (NICE).
The RCF examined how South West spending compared with other parts of England.
It found what it called a "north-south" divide, with NHS Yorkshire and the Humber going over budget.
Andrew Wilson of the RCF said: "We believe that South West needs to get their act together in the manner in which they deal with their allocation for the Cancer Drugs Fund."
He welcomed a move by NHS South West to fast track a number of drugs to patients.
NHS South West medical director Mike Durkin said: "The vast majority of applications to the Interim Cancer Drugs Fund were agreed, and we are confident that the number of requests for funding will increase as more and more patients receive the latest drugs recommended by their doctors.
Mr Durkin said there were there were 173 applications to the Interim Cancer Drugs Fund between October 2010 and March 2011, of which 158 (about 91%) were agreed."
He said applications for funding were made by consultants on behalf of individual patients to an independent panel made up of clinicians and cancer specialists.
"The nature and urgency of cancer drugs means that the system needs to be simple, quick and responsive, and the vast majority are agreed within seven working days," he said.