Remembering Cornwall's Niagara Falls barrel hero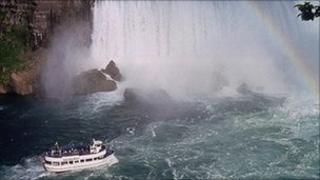 A memorial is being planned for the first man to go over Niagara Falls in a barrel.
Bobby Leach came from Cornwall, but not much is known about his early days.
It is almost 100 years since he attempted the stunt, dropping 188 feet (57m) into the thundering water, on 25 July, 1911.
A family from Cornwall is now researching Mr Leach's early days spent in Cornwall.
Some archive reports say Bobby Leach was badly injured in the attempt, spending 23 weeks in hospital. Other witness reports from the time say he walked away with just cuts and bruises.
Mr Leach was not the first person to achieve the barrel feat. That honour belonged to Annie Taylor, but it was Bobby Leach's attempt which received the most publicity.
Bobby Leach had previously been a performer with the Barnum and Bailey Circus.
Sherman Zavitz, the official historian for Niagara Falls city, said Mr Leach hoped the stunt would make his fortune.
"He did this of course to earn some money. It wasn't just to meet the challenge. He went on tour afterwards all over the world telling his story," he said.
Discarded peel
Mr Leach returned to Niagara Falls in 1920 and operated a pool hall. While aged in his 60s he attempted to swim the whirlpool rapids but failed after several attempts.
Karen Barnett from Tywardreath, near Fowey, has been doing research, alongside her father, into the life of the stunt man.
They want to hear from anyone with information about the early days Mr Leach spent in Cornwall.
"He was born in Cornwall in 1858. We can't really find out anything about whereabouts Cornwall he was born. A hundreds years on from the event, it would be brilliant to do something to mark this wonderful man," she said.
Once she discovers Bobby Leach's birthplace, Karen Barnett hopes that a commemorative plaque can be placed there.
Mr Leach died while he was on a publicity tour in New Zealand in 1926. He injured his leg when he slipped on a discarded peel. Some reports said it was orange peel, others say it was a banana.
The leg became infected, and gangrene set in. He died two months later.