BBC Introducing: Martin Bowie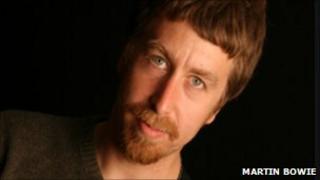 Jazz musician Martin Bowie has just released a new album, which he is about to take on tour throughout Cornwall and further afield.
The project called Azure Thing is a mixture of written music by Martin Bowie, and improvisation from Martin and his band.
"It's kind of the modern jazz sound that has been around since the '60s. I like to think this is very easy to listen too, but there is a lot of improvisation too.
"You have a set of chords that the melody works with and then we go from there."
Martin Bowie popped in to BBC Radio Cornwall studios to talk about the new album on the David White Show, where he premiered the title track, Azure Thing.
Martin himself begins the tune process by guitar, before he involves other musicians later in the process.
"It's all done on guitar. I often start with the melody. It grows from there. Some start with a chord progression and then go to the melody. But it's the other way round for me.
"With 'Azure Thing' I was looking out of the window on a beautiful summer's day. I was just staring into space and the first few notes fell under my fingers. The initial bit comes easily. Sometimes finishing can be hard. I sometimes have to leave them and come back later. It can be tricky."
You can see Martin Bowie each Sunday at 12.30 BST with Ross Williams and Tim Greenhalgh at the Tregenna Castle Hotel, St Ives.