Charity calls for action on Bodmin Moor pony welfare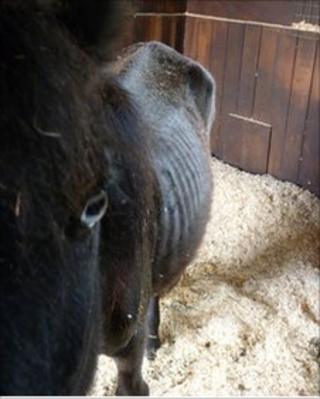 The welfare of ponies on Cornwall's Bodmin Moor needs to be tightened up, an animal welfare charity has said.
South West Equine Protection (SWEP) said some ponies are suffering from malnutrition.
It wants the Animal Welfare Act to be more strictly enforced to compel owners to care for them.
But the Animal Health and Veterinary Laboratories Agency (AHVLA), which oversees the welfare of livestock, said it did take action to protect ponies.
Most of the hill ponies roaming on Bodmin Moor are in herds.
The owner of each herd is traditionally known as a commoner.
The charity said it was called out on 3 June to deal with two ponies with young foals on Bodmin Moor.
'Poor condition'
It said one pony was "severely emaciated" and the other was in "very poor condition".
It said both ponies needed to be removed from the moor with their foals to receive care but neither had any identification on them to indicate who owned them.
Since 2009 all ponies are supposed to be micro chipped to identify who they belong to.
Faye Stacey, Swep's welfare officer, said the hunger problems had been caused by a cold winter followed by a dry spring: "The ponies are in a poor condition now in June and going into winter they are just not going to make it."
Another mare, Hope, was rescued recently but her foal died.
Miss Stacey said it was hard to get the authorities to enforce the welfare act and prosecute owners who are neglecting their ponies.
But Lorna Stevenson, a vet with the Animal Health and Veterinary Laboratories Agency, said: "We would strongly refute the suggestion from SWEP that ponies on Bodmin Moor are in a poor state of health and that 'nothing is being done' by the authorities to ensure their welfare.
'Excellent commoners'
"Unfortunately, if ponies do not have a micro chip we are unable to trace owners to take any appropriate legal action.
"However, we can and do resolve welfare issues relating to individual ponies or groups of animals."
And Julie Dowton, secretary of the Bodmin Moor Interim Commoners' Council, said: "I don't believe we have any ponies in a poor state of health.
"We are monitoring the animals on Bodmin Moor and carry out regular surveys.
"We work closely with the AHVLA and Trading Standards and the RSPCA."
The issue of the ponie and their welfare has been taken up by Neil Parish, Conservative MP for Tiverton and Honiton.
He is a member of the Environment, Food and Rural Affairs select committee and has asked SWEP to give evidence to it.
He said he wanted to see money allocated by the government to have the ponies on Bodmin Moor micro-chipped as they have been on Dartmoor and Exmoor.