Work to excavate St Piran's Oratory at Perranporth starts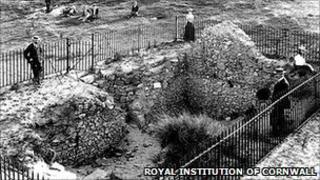 The excavation of St Piran's Oratory at Perranporth has begun, with a grant from the Heritage Lottery Fund.
The oratory is thought to be one of the oldest places of Christian worship in Britain dating back to the 5th Century.
The start of the delicate work begins more than 30 years after the small chapel was abandoned to be preserved by the shifting sands.
It is hoped archaeologists may uncover fresh clues about the final resting place of Cornwall's patron saint.
St Piran is the patron saint of tin mining, once a booming industry in the county.
According to legend, St Piran - who was born in Ireland in the 6th Century - landed on the sands at Perranporth after being cast into the sea by the Irish tied to a millstone.
'Encased in concrete'
The oratory marks the site where St Piran built his first place of worship about 1,400 years ago.
Chairman of the St Piran Trust, Perran Penrose, said: "The site over which we have been patiently negotiating for more than 10 years is of enormous ecological as well as historical importance.
"We can at last determine what the options are for uncovering and preserving the oratory so that it can be visited without damage to its fabric and its environment."
There were two major digs in 1835 and 1843, before the remains were encased in a large concrete structure in 1910 when a number of skeletons, including one of a large headless man, were found.
Mr Penrose added: "This project is for all of the people of Cornwall and we want them to feel that they have ownership of it.
"St Piran is our national saint - his flag now flies in every corner of the Duchy. His first chapel is an internationally important ancient monument."