Anniversary for Bodmin and Wenford steam railway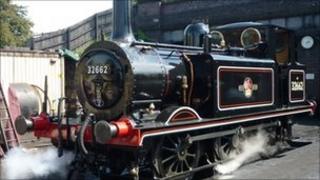 It is 25 years since the sound of steam returned to a railway line in north Cornwall.
A celebration is being held at the Bodmin and Wenford railway to remember the volunteers who made it happen.
The line closed to passengers in January 1967, and then completely in November 1983.
A group of volunteers got together to work to reopen the line soon after. Trains started running on the line again in 1986.
Richard Jones, the general manager at Bodmin and Wenford, said the team of volunteers felt very passionate about the line.
"It certainly was an awful lot of work, in many aspects.
"The physical work of restoring the track, restoring the locomotives, all of which was done by volunteers, and raising the capital to do so."
Visitors come from all over the world to see the 6.5 miles (10.5km) of track that now form the Bodmin and Wenford Railway.
One of the drivers of the trains, Tony Halworth, said: "It was every child's dream to be on a locomotive. I had the chance to do it.
"There's no place on earth like being on this footplate."
Bodmin itself has a rich railway history. The railway line between Bodmin and Wadebridge opened in 1834 before the Great Western link into Cornwall, and even preceded the industrial achievements of Brunel.
The railway is using its 25th anniversary week to showcase its Cornish-orientated collection of working locomotives, all of which will be rostered for duty at some stage during the 10-day event.