Plans for Truro new supermarket and 100 homes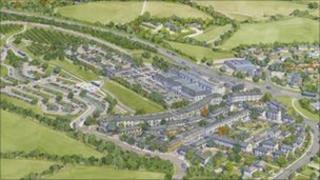 A planning application has been submitted for a multi-million pound shopping and housing development in east Truro.
The Truro Eastern District Centre, would include a Cornish food hall and a small Waitrose supermarket at the Tregolls Road site.
The project partners are Cornwall Council, the Duchy of Cornwall, Waitrose and The Taste of Cornwall.
If it gets the go-ahead building work could start in 2012.
The development, on a 19-hectare site near the city's cattle market, would include 98 new homes, community allotments and a waste recycling centre, plus a 1,300-space park and ride car park.
Developers said the scheme could create more than 200 jobs.
The Cornish food hall would only sell local produce and could generate estimated sales of £6m to £8m a year.