Waste collection warning after fly-tipping in Cornwall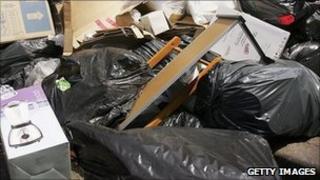 Environmental health officials are warning people in part of Cornwall to watch out for criminals offering to take away their rubbish.
It follows an incident in which a householder in the Wadebridge area paid £45 for two men to take away waste which was then found in a field.
Cornwall Council said fly-tipping was a serious offence which cost millions of pounds each year to clear up.
Offenders could punished by being jailed for up to five years, it added.
In the Wadebridge incident, the two men took away a large quantity of domestic waste; including beds, furniture, paperwork and general household material.
It was discovered a few days later in a field close to the road at Helland, near Bodmin.
The council's environmental protection team has appealed for witnesses.
The men used a white Bedford pick-up van with a mesh guard behind the cab, and yellow and red hatched warning signs at the rear of the vehicle.