Worldwide torch relay reaches Cornwall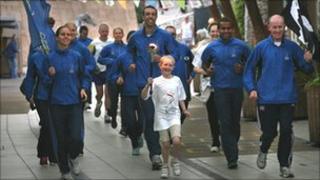 The global torch relay, World Harmony Run, has visited the Eden Project as part of a national tour.
As a symbol of harmony, runners carry a flaming torch as they travel through countries around the world.
The run was founded by Indian spiritual teacher, poet, artist and athlete Sri Chinmoy in 1987.
He described it as "one of the world's largest and most enduring grassroots efforts for peace".
The run has already visited more than 140 nations during the last three decades.
The World Harmony Run is co-ordinated by an international network of volunteers who work closely with schools and sporting organisations.
Executive director, Salil Wilson, said the run "does not seek to raise money or highlight any political cause, but simply strives to create goodwill among peoples of all nations."
At the Cornish attraction those who carried the torch included the Eden Project's Tim Smit and Gaynor Coley, who also received Torch Bearer Awards in recognition of their work in local communities.
Gaynor Coley said: "What the World Harmony Run does so powerfully is bring people together with the simple act of running.
"It has been a great honour to have the World Harmony Run come to Eden and to receive the Torch Bearer Award."
The World Harmony Run torch has been held by many prominent people including Lord Sebastian Coe and the runner Paula Radcliffe.
The Queen also held the torch at the VE Day celebrations in 1995 and used it to light a beacon in Hyde Park.