Cornwall's first solar energy farm is switched on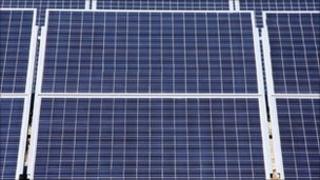 Cornwall's first solar energy farm has been switched on at the site of a former tin mine.
The £4m complex has been built on the historic Wheal Jane site near Truro, where tin production ended 20 years ago.
Those behind the project said the nearly 6,000 solar panels will generate enough power for 400 homes.
It is said to be the UK's largest solar farm. A slightly smaller farm is also opening in Leicestershire.
But the expected expansion of large scale solar farms in Cornwall is not thought likely to take place.
The government announced 70% cuts in subsidies in the so-called feed-in-tariff, in June.
Conor McGuigan from Lightsource Renewable Energy which helped develop the Wheal Jane farm, said it was a big blow.
"I think it's a huge setback. At this present time for us to make the reductions in Co2 emissions by 2020 I think it's going to be very difficult to do that on a domestic scale and I think you need more parks like this to achieve those targets."
Around 5,700 solar panels are spread across seven acres on the old mining site.
Wheal Jane's future involves more than just solar energy.
Current plans include a biomass power and heat generating plant, a wind turbine and a geothermal unit utilising heat from the former mine shaft.