Devon and Cornwall inshore fishermen's quota fears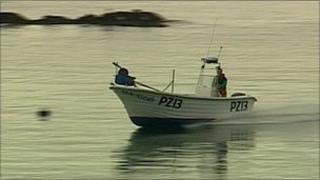 Inshore fishermen in Devon and Cornwall are warning that plans to introduce quotas could force them out of business.
Owners of boats under 10m (33ft) said they were worried the new system would be too restrictive.
The quotas will be based on records of what each boat has caught annually between 2007 and 2010.
Richard Benyon, fisheries minister, said fishermen should be able to catch more fish under the reforms.
Ted Chapel, an inshore fisherman, told the BBC Politics Show: "One day we might fish for three or four different species in a matter of three hours.
"Some of them don't come under the quota system at the moment and some do.
"What we're terribly concerned about is that for the [2007 to 2010] reference period being taken some of us won't have enough of the species which come under the quota to actually make a sustainable living when these quotas come in."
'Highly sustainable'
Mr Benyon said inshore fishermen had been encouraged to diversify away from catching fish whose stocks were under pressure.
He said: "We want to make sure they are not penalised for this system.
"We have a very difficult calculation to make but if we get this right we believe that the under 10m fleet will be able to access more quota, more fishing opportunities."
Terry George, from the Lands End Inshore Fishermen's Association, said: "We believe that the way fishing is carried out... is highly sustainable.
"We see absolutely no reason for quotas to impinge on small boat fishing like this.
"What's in question is a way of life for a community and all that means to people here and in similar places around the country."
Inshore fishermen use a hand-line method and small boats to catch fish within a short distance of the shore.
St Ives MP Andrew George is hoping to take a delegation of concerned fishermen from his constituency to see the fisheries minister.
The Department for the Environment, Food and Rural Affairs (Defra) is currently evaluating the responses to a recent consultation on the changes, with a view to introducing them in 2012.