HMS Cornwall crew parade through Truro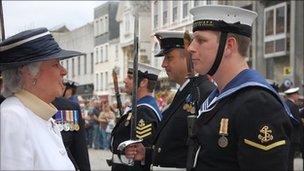 The crew of the recently retired Royal Navy warship HMS Cornwall have taken part in a special parade in Truro.
The Royal Navy said the crew would be exercising their "ceremonial historic right" to march through the city bearing arms.
The Type 22 frigate, which entered service in 1988, was decommissioned in Plymouth on 30 June.
The 253 crew and three civilian staff will be reassigned to other ships.
The march through the city was followed by a thanksgiving service at Truro Cathedral.
Commander David Wilkinson, HMS Cornwall's commanding officer, said: "The support that my predecessors and I have received from the county of Cornwall has been huge and has been a consistent source of comfort throughout all the ship has done."
HMS Cornwall had recently been deployed in the Arabian Gulf and Indian Ocean on counter-piracy duties.
The vessel is the last of four Devonport warships being scrapped.
The government announced in December that four Type 22 frigates were to be decommissioned under the Strategic Defence and Security Review.
HMS Cornwall hit the headlines four years ago when 15 personnel were captured by Iranian forces in March 2007 as part of a dispute over territorial waters.
They were held for 13 days before being safely released.
The ship is the sixth Royal Navy vessel to bear the name Cornwall. The name was first used in 1692.
Related Internet Links
The BBC is not responsible for the content of external sites.