Isles of Scilly ferry link: £4m spent on failed scheme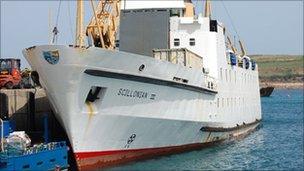 Nearly £4m was spent on a failed bid for a ferry link between Cornwall and the Isles of Scilly.
The plans were dropped after the government refused to contribute £35m claiming it was "a scheme that was very poor value for money".
Cornwall Council spent £2.53m, with a further £1.31m coming from central government and European funding.
The costs were published following a freedom of information request to the council.
Cornwall Council's bid included building a £44m ferry terminal at Penzance's Battery Rocks.
It also involved buying a new combined passenger and freight ship, replacing the current Scillonian III passenger ferry and the Gry Maritha freighter.
The terminal and sea link had widespread support from the Isles of Scilly community, but met with opposition from some critics in Penzance.
Graeme Hicks, Cornwall Council's cabinet member for transportation and highways, said the money spent was now lost.
He said he was "outraged" that the government had left the council "holding the bill".
John Maggs, from opposition group The Friends of Penzance Harbour, said the amount spent was "a total loss to Cornwall Council taxpayers".
Mike Waters, chairman of Penzance Chamber of Commerce, said: "It would have been value for money had it gone ahead."
Related Internet Links
The BBC is not responsible for the content of external sites.