'New' aphid species found on Cornwall college campus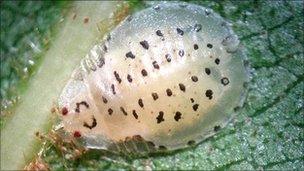 A species of aphid has been recorded for the first time in Cornwall after it was found by conservationists on a college campus, an academic has said.
The aphid nymph, Crypturaphis grassii, was seen at the Duchy College in Camborne.
It was discovered during a 24-hour survey to record species found.
The college's conservation programme leader, Nick Taylor said it was the first sighting submitted to the county's Environmental Records Centre.
Mr Taylor said: "This particular species is native to Italy and is only found on the Italian Alder tree.
"As these are a hardy tree they are commonly planted in Cornwall as windbreaks and shelter belts.
"A first record for Cornwall is really very significant and we are now planning an extensive survey of Italian Alders in other areas of Cornwall to determine how widespread the aphid is."
The species was found during a survey called a BioBlitz.
The team included college staff, students, Cornwall Wildlife Trust and specialist wildlife recorders.
Mr Taylor said the species was identified by invertebrate specialist Sally Luker who has been asked by the British Entomological and Natural History Society to write a paper about the discovery.
Related Internet Links
The BBC is not responsible for the content of external sites.