Cornwall Council approves Falmouth port redevelopment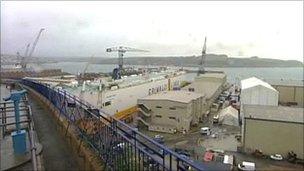 Cornwall Council has approved proposals for the development of the Port of Falmouth which it says will create and protect thousands of jobs.
Plans include the dredging of a new approach channel to the docks, allowing cruise ships to access the port.
The proposals aim to ensure the docks and surrounding area develop into a viable port bringing economic growth to Falmouth, Cornwall and the South West.
Councillors have called the decision "phenomenal news".
The proposals, centring around Falmouth Docks, set out projects for the next five years, as well as for the longer term up to 2026.
It is claimed that, with the implementation of the proposals, total full-time jobs at the port should rise from 1,400 to more than 3,000 by 2030.
The plans include modernising ship repair facilities, upgrading wharves at the docks, improving bunkering services and providing a new superyacht basin, workshops and associated facilities.
Chris Ridgers, cabinet member for economy and regeneration at the council, which is run by a Conservative-Independent coalition, said: "This represents a very significant milestone for the Port of Falmouth."
Mike Varney, council member for Falmouth Boslowick, said: "This is phenomenal news and not just for Falmouth.
"It will be to the benefit of the whole of Cornwall and beyond."
Related Internet Links
The BBC is not responsible for the content of external sites.