Cornwall village petition defends cockerel noise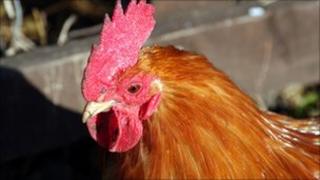 A petition has been presented to Cornwall Council by villagers in Probus, near Truro, to "stop the urbanisation of Cornwall".
The petition began after the council served a noise abatement order regarding daytime cockerel noise in the village.
Villagers rallied round to defend cockerels, collecting 1,050 signatures.
John and Cathy Stringer, the owners of the cockerel, said they were "astounded by the support we had from all over".
The Stringers have kept poultry for 27 years and recently had a complaint about daytime noise, which the council became involved in.
Cornwall Council area manager for public health and protection, Rebecca Kirk, said the council had a legal obligation to address each allegation and undertake an investigation to see whether or not a complaint was justified.
Councillor Barry Wilcox said the village of Probus had expanded over the years and that "there are people coming in to the village who are not prepared to listen to rural sounds".
He said: "Really, we should come down quite heavily on these people and say: 'You've got to put it up with this, folks. It's a rural area'."
Richard Ward, Cornwall planning and development manager for the Campaign to Protect Rural England, said that often people moving into a rural area want to bring with them "urban lifestyles and values".
Mayor of Truro and Cornwall Councillor Rob Nolan said: "Just because a noise is a rural noise, it doesn't mean it can't be excessive.
"We have to assess each case. People have the right to complain."