Councillor expresses fire service concern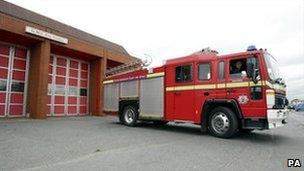 A Cornwall councillor has expressed deep concern about the impact of proposed changes to fire cover in the county.
The plan to shut bases at Redruth and Camborne and build new ones at Tolvaddon and Hayle will be discussed by councillors in the next few months.
The plans would then go out for public consultation.
Cornwall councillor for Redruth North Lisa Dolley is calling for a local referendum on the proposals.
The fire service in Cornwall said the idea is to save money and increase the number of people within a 10 minute response time.
Councillor Lisa Dolley said proper road tests are vital as extra minutes could mean lives are lost.
"Lives are always at risk and minutes mean lives. I will be calling a local referendum should the proposed changes take place. It would be to save the fire station and keep it within the community of Redruth where it's been for last 40 years now.
"I am going to go in with all guns blazing and they will keep blazing until someone tells me that Redruth fire station has been saved."
Kevin Thomas from Cornwall Fire and Rescue Service said the plans would improve the number of people they can reach within 10 minutes by 27%.
He said the service is listening to concerns from the public and local councillors.
"We would take nothing forward without absolutely clear evidence that supports improvement in service. We will undertake timed runs to map out exactly how long it takes to drive a fire engine from A to B."
Related Internet Links
The BBC is not responsible for the content of external sites.