Bid to remember more of Cornwall's fallen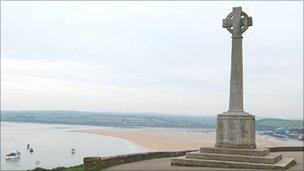 Hundreds of new names could be added to war memorials across Cornwall.
Former county councillor Paul Holmes is hoping to trace the names of everyone from the county who died in the conflicts involving British troops since the end of World War II.
Mr Holmes scoured records to ensure that war memorials with names up until 1945 were up to date.
A number were added to different memorials including one at Four Lanes near Redruth.
Now Mr Holmes is tracing those who died in conflicts after 1945.
He said: "Some died in accidents, some of illness. Some of the sad ones were people who died clearing mines. Two died in Germany clearing bombs we had dropped."
The Royal British Legion (RBL) has welcomed the research which Mr Holmes warns will take many years.
Keith Naylor from the RBL in Cornwall said: "From a legion perspective it's absolutely great. It is very time consuming, with a lot of research involved.
"Those people were serving their country, in uniform, miles away from home.
"The least we can do as a grateful nation is ensure that their sacrifice is remembered by being put on a war memorial in the village or town they came from."
Mr Holmes is using archive copies of all the Cornish weekly newspapers from years gone by to trace the soldiers from the past conflicts.
He said he is up to the end of 1948 and has already uncovered more than 100 names from around 60 different parishes in Cornwall.
"In 1945 of course you understand a lot of the soldiers were still dying of wounds caused from the Second World War."
Mr Holmes hopes parishes will agree to add the newly discovered names to their existing war memorials.
Related Internet Links
The BBC is not responsible for the content of external sites.