ShelterBox aid from Cornwall arrives in Kenya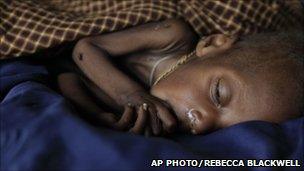 The first wave of ShelterBoxes from a Cornish charity have arrived in Kenya ready to be distributed to thousands of refugees hit by famine.
This year has been the driest in the Eastern Horn of Africa since 1995.
Official figures show the drought affecting the area is the worst in 60 years.
A response team from Shelterbox in Helston is flying out on Monday to start deploying the aid to the worst affected areas.
ShelterBox operations manager Alf Evans said as the crisis deepened it was important aid agencies worked together to provide emergency assistance to the people in most need.
He said: "The first priority is ensuring people have access to the water, food and medicine they desperately need.
"We're talking with our contacts in the region as well as the agencies operating there to establish the most effective way we can help."
Alongside Kenya, Ethiopia is also bearing the brunt of refugees from Somalia.
ShelterBox Founder and CEO Tom Henderson OBE said: "ShelterBox has extensive experience of operating in East Africa and is prepared to rapidly mobilise aid."
The ShelterBoxes contain a disaster relief tent for a family of up to 10 people as well as blankets, water storage and purification equipment, cooking utensils and other vital items.
Related Internet Links
The BBC is not responsible for the content of external sites.