Walkers stung more than 40 times in Cornish wood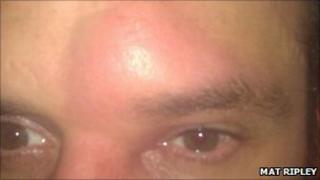 Seven members of the same family were stung by a swarm of wasps more than 40 times while walking in woodland in Cornwall.
Mat Ripley from Truro and his family were visiting Kingswood, a popular walking area near St Austell.
One vet in the town has treated nearly a dozen stung dogs from the same area in less than a week.
The Woodland Trust said it was investigating the nests and would take appropriate action.
Mr Ripley said of the incident on Saturday, that he had not experienced a swarm like it before.
"I have been going there for 20 or so years. It was right by the path near London Apprentice, it was by no means high up in the woods," he said.
"It's certainly not what you expected but I guess that's nature. There's not a lot you can do about it."
Emma Wells, a veterinary surgeon at Pelyn in St Austell, said she had dealt with several wasp stings over recent days.
Very territorial
"What we would advise is for owners to try and get the animal out of the area as soon as possible. Wasps are very territorial about their nests. They will be defending their nests," she said.
Kingswood stretches 150 acres but is part of a much larger woodland in an area between St Austell and Mevagissey.
Malcolm Allen is the Woodland Trust's site manager for Cornwall. He said he was alerted to the problem on Tuesday.
"We need to find the nest. It is a large woodland. When the wasps are angry they are easy to see. But the hole in the ground where they have the entrance to the nest will be small. It will be difficult to find," he said.
"If it's right against the track and other people are at risk of getting stung then we will have a look at the nest and we will treat it accordingly."