Cornish ale created to help save Bude sea pool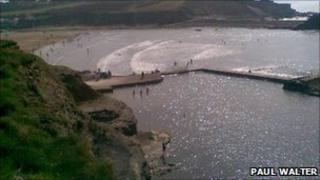 A new Cornish ale has been specially created to help save a tidal swimming pool from closure.
Bude Sea Pool is a part natural, part man-made pool in the rocks at Summerleaze Beach in north Cornwall.
Its future is under threat after Cornwall Council announced it would be withdrawing funding next year.
For every bottle of the SOS (Save Our Sea Pool) ale brewed at the Keltek Brewery in Redruth, 20p will go to a campaign fund to keep it open.
Kayak rolls
The 100m sea pool was created in the 1930s to provide safe swimming at Summerleaze.
It is used by locals and holidaymakers for swimming, kayakers practice their rolls in it and would-be sufers learn how to stand upright on their boards.
It is topped up twice a day at high tide - one of very few tidal pools remaining in the UK.
Cornwall Council, which manages the pool, announced last year that funding would be withdrawn.
A public campaign persuaded the council to keep it open for the 2011 season, but from 2012 the pool must find its own funding or it will close.
Oliver Tullett, who runs a local wine merchant, said he was shocked when he heard the historic tidal swimming pool might have to close and wanted to do something to help.
He said the funds raised would be given to the Friends of Bude Sea Pool (FoBSP), a not-for-profit community group.
Its chairman Paul Tilzey said it was creative way to raise funds.
"We only have a limited amount of time to raise money and establish an organisation to run the pool next year," he said.
FoBSP said it hopes it will be able to secure the pool's future under local management.