Men fined for Fiona Bruce Antiques Roadshow string attack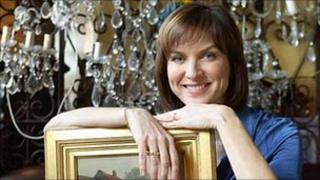 Two men have been arrested and fined for spraying the BBC presenter Fiona Bruce with aerosol string while she was filming the Antiques Roadshow in Devon.
Ms Bruce was making an episode of the show at Hartland Abbey, near Bideford, on 7 July when she was targeted.
The men, aged 42 and 32, were arrested for common assault and issued with £80 fixed penalty fines, Devon and Cornwall Police have confirmed.
A BBC spokeswoman said that neither the programme nor Ms Bruce had any comment.