Fears for the future of Hayle Beach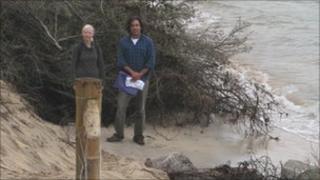 Campaigners are calling for urgent efforts to restore a west Cornwall beach.
Save Our Sands (SOS) has warned that beaches round the popular St Ives Bay could start to disappear unless urgent action was taken.
SOS said the removal of a million tonnes of sand by dredging over 30 years had nearly destroyed Hayle Beach.
They want sluicing to be introduced to keep clear the channel used by fishing boats.
A sluice is a water channel that is controlled at its head by a gate.
Property giants ING have submitted plans to Cornwall Council for the restoration of Hayle Harbour.
SOS said it was working with ING and other parties in relation to the reinstatement of sluicing.
Ged Egan, from SOS, said: "It is no secret that we didn't see eye to eye. But over the last 18 months ING and SOS have had great dialogue. Their solution is sluicing.
"If they get their plans through, they propose a commitment of £1m for sluicing. That will help a great deal."
Mr Egan said Hayle beach was now 5m (16ft) lower than it was in 2005 and the massive dune overlooking it has been badly affected.
Scientist Anne Marie Rance is a member of Save Our Sands. She said: "I am very worried. All the damage here is going to continue. There are going to be very high tides in the next few months. This could do even more damage if it comes in with a storm system as well."
In a statement, ING said: "Dredging is historical in Cornwall and, though it may not be directly responsible for everything that's happened on Hayle Beach, it doesn't help the situation.
"We stopped the dredging to see what we could do and are examining Carnsew Sluice to see if it will give enough force of water to keep the channel clear.
"We are working closely with SOS and harbour users and it is good that SOS are making everyone aware of the situation and possible solutions."