Affordable homes help 'get on the property ladder'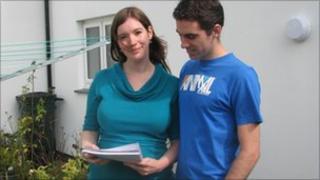 Tenants have begun to move into the largest affordable homes project in St Ives for more than 30 years.
The £4.9m development has created 54 new homes and will be managed by Penwith Housing Association.
The Homes and Communities Agency invested more than £3.5m in the project, with Cornwall Council also contributing about £140,000.
Deputy mayor Colin Nichols said "it had given a lot of people in the town a chance to get on the property ladder".
Mr Nichols said: "We are right behind affordable housing because we have to balance out the commercial developments with affordable ones".
Penwith Housing Association chief executive, Andy Moore said with more than 18,000 people on the housing register in Cornwall, providing homes for people on the housing register "was a mountain to climb".
Mr Moore said: "Over 200 properties are being built each year for rental or shared ownership but and we are trying to work innovatively with Cornwall Council and local councils like St Ives, to stretch government money further than we have done in previous years."
One couple, Samantha Fallowfield and James Moon bought, a part share in one of the properties and say they have been looking for a home for years.
Ms Fallowfield said: "To be able to know that the money that you are putting towards the house every month isn't just going to rent has made such a difference."
Evelyn Fox and her three children said it was "completely overwhelming" to be moving into their new three-bedroomed house after living in temporary accommodation in Hayle.