New Chief Executive for Truro Cathedral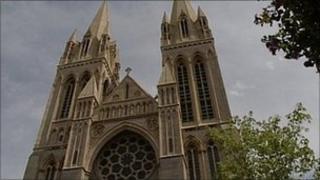 Truro Cathedral has appointed a new Chief Executive.
Alan Wallace, from Northern Ireland, joins the staff after 18 months as Associate Pastor and Church Manager in Christchurch in New Zealand.
Mr Wallace has more than 20 years experience in a variety of church roles, having originally trained for lay ministry at the Church Army's College of Evangelism.
His enjoyment of youth work and his experience at parish, deanery and diocesan levels led to a prestigious position as National Youth Officer for the Church Mission Society.
In recent years Mr Wallace has also built up an Events Management business that has successfully delivered a number of high profile Christian events such as the Lambeth Conference, World Conferences for Young Anglicans, Action Against Hunger and working on the relaunch of the Bible Society.
Speaking of his appointment in Cornwall, Mr Wallace said: "I am absolutely thrilled and honoured to have been appointed Chief Executive of Truro Cathedral.
"I join the Cathedral at a very exciting and challenging time. The Cathedral's development project, Inspire Cornwall, is entering a new phase with the creation of an Education, Music and Arts Centre.
"I very much look forward to working closely with the Chapter and the cathedral team and bringing my skills and experiences to help fulfil the Cathedral's mission and role at the heart of the community."
The Chief Executive has responsibility for the day-to-day activity and operations of the Cathedral; its overall management and administration, including all financial, commercial and personnel matters, and the implementation of Chapter policy.
Mr Wallace will take up his position in September.