Newquay airport named as enterprise zone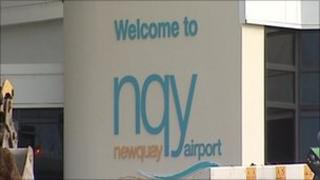 More than 1,000 new jobs could be on the way for Cornwall, the government has said.
Newquay Airport has been named by the government as an enterprise zone for new businesses.
Ministers said companies that choose to develop at Newquay airport will be able to share tax breaks worth nearly £2.5m.
Planning regulations will be eased so firms will not face lengthy delays starting up.
The government hopes the new Newquay Aerohub Zone will encourage businesses involved in the aviation industry to set up at the 135-acre airfield.
'Good sign'
The Cornish zone bid was led by the Local Enterprise Partnership. One of its board members, Cornwall councillor Lord Teverson, said: "We put in our bid at the end of June. The government made a decision very quickly.
"We're just one of 11 to be announced across the country. It's a really good sign that shows it was a quality bid and something that could really work."
The government said new enterprise zones had been selected "because they have little or no business at present and would therefore act as a catalyst for new growth".
Other new zones have been announced at sites including Warrington, Gosport, Norfolk, Hereford, Kent and Oxfordshire.
Plans for 21 nationwide zones were originally set out in March's Budget.