Cornwall Search and Rescue team in plea for volunteers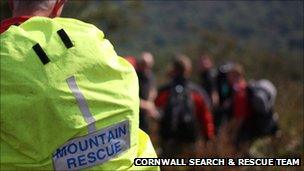 A rescue team in Cornwall is urging volunteers to come forward so it does not need to rely on its Devon counterparts.
Cornwall Search and Rescue Team said it had insufficient numbers at present and in extreme cases had to call on the Dartmoor team.
Currently, the team has 35 members, but for every person rescued it takes 10 volunteers to carry them.
Chairman Tim Hughes said they could be "more effective with more people".
The Cornwall Search and Rescue Team has said it is "one of the busiest teams of its kind in Southern England" dealing with more than 60 incidents a year.
Mr Hughes said: "When we get a call-out, out of the 35 volunteers we have, we are lucky if we get a third of people able to attend, as they are all in day jobs.
"Last year we were called out 67 times, mostly for missing people, people who are unfortunately looking to commit suicide and sometimes the elderly who are missing."
The team, which has been together for eight years, includes people aged 21 to 65.
Team member Cat Brewer said she joined three years ago as some of her friends - already involved in the team - persuaded her to join.
Ms Brewer said: "About a year-and-a-half ago I took over the role as medical officer, so now my role is training everybody else and making sure they have basic first aid so they can perform things like basic life support.
"I've thoroughly enjoyed every moment with the team, I love the aspects of training, how its developed my skills, also actually seeing that on the ground when you do get a rescue and you feel that you really can help someone and you have the ability to do that."
Related Internet Links
The BBC is not responsible for the content of external sites.