Man seriously injured in Porthcurno rock fall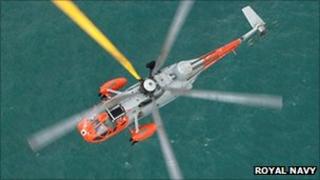 A man in his 60s has been airlifted to hospital with serious injuries after falling about 25ft on to rocks at Porthcurno in Cornwall.
A spokesman for Falmouth Coastguard said the accident happened just after 15:00 BST on Wednesday.
The man, who is not thought to be local, sustained suspected head and spinal injuries in the fall.
An RNAS Culdrose helicopter, Land's End coastguard team and Porthcurno beach lifeguards were involved in the rescue.
The man was taken to the Royal Cornwall Hospital in Truro. His condition is not known.
Lt Commander Andy Watts, from RNAS Culdrose, said: "He was conscious throughout, although he was in pain. The difficulty was getting him out.
"We used straps under his arms, and used everybody there to physically lift him up and maintain care of his neck, so there was no issue if there were spinal problems."
The rescue took about 45 minutes.