Truro Cathedral CCTV gives close-up view of bells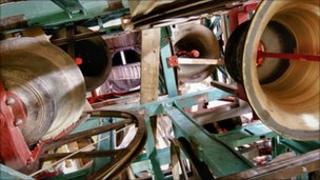 CCTV cameras have been placed at the top of Truro Cathedral to capture a view of the bell chamber.
Four new bells made to mark the 100th anniversary of the original bells were installed in March, making a full peal of 12 bells.
They can now be viewed close up without the need to climb hundreds of steps to reach them.
The bells were made by Taylors of Loughborough, which made the original bells.