Camborne dancers off to youth congress in Strasbourg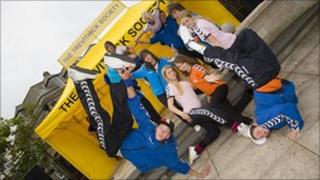 Three members of a community dance organisation which works with disadvantaged young people in Cornwall, are on their way to Strasbourg.
The group from the TR14ers will speak at a youth congress.
The event, organised by the Council of Europe, will see young people from 47 countries discuss what can be done to improve access to social rights.
The Tr14ers was created when levels of anti-social behaviour in Camborne and surrounding areas became a problem.
Since it started eight years ago, the dance group has won numerous awards and now has more than 800 members.
The Tr14ers' co-founder and Devon and Cornwall Police's Youth Manager for the county, Dave Aynsley, will also talk at the conference.
He said: "There will be a lot of youngsters dancing, but there will also be some very serious conversations about problems where they live."
Shanna Dawes, 19, joined the group eight years ago. She said it was instrumental in her attending college and becoming a qualified dance teacher.
She has now returned to the Tr14ers as an Assistant Director.
Miss Dawes said: "The conference will be about comparing and contrasting what different countries have and don't have. I think that will be a really big issue."
The meeting will take place in the European Youth Centre Strasbourg on 14-18 September 2011.