Newquay £14m solar farm plans on hold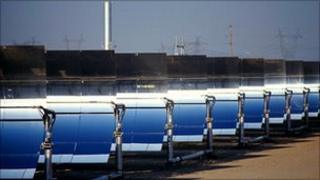 Plans for a £14m solar energy farm in Cornwall have been put on hold, the council has said.
It had approved a business case for the project near Newquay Airport earlier this year.
But it said reductions in feed-in tariffs for such large schemes - which pay for power fed into the national grid - meant it was not as attractive.
It said it would spend the money on smaller projects, such as solar panels on council buildings and schools.
The council cabinet member responsible for the solar scheme, Julian German, said he was "obviously disappointed" that the plans for Newquay were on hold.
But he added that plans for a large solar farm in the county could make a comeback.
He said: "The way that energy prices are rising, we believe that the markets will make the large-scale park viable in the future.
"We think that may be within two or three years possibly, so we do expect the large-scale ones to go ahead."